DOGZ 2 AND CATZ 2 TOYZ
CLICK ON PICTURES TO DOWNLOAD

Bouncing Beach Ball
Give your Petz hours of non-stop fun with this colorful Beach Ball. They make great Toyz, so download one today!
Requires: Dogz II or Catz II

Dogz Plush
Cuddly Petz-sized versions of our popular Dogz Plush Toyz (made for humans). Truly amaze your Petz by downloading a Dogz Plush today!
Requires: Dogz II or Catz II

Catz Plush
Download an adorable Catz Plush! They're purrrfect for Dogz and Catz with attitudes - and they look like the full-sized Catz Plush Toyz that are made especially for humans.
Requires: Dogz II or Catz II

Auto-Rolling Ball
The amazing Auto-Rolling Ball never stops — giving your Petz tons of fast-paced fun!
Requires: Dogz II or Catz II

A Heart-Shaped Satin Pillow
This shiny satin pillow is a special way to let your Dogz and Catz know you care. This heart-shaped pillow is sure to inspire pleasant dreams. Download today in time for Valentine's Day!
Requires: Dogz II or Catz II

A Box of Candy Hearts
A special Valentine's Day message accompanies every heart-shaped morsel in this Box of Candy Hearts.Your Dogz and Catz will think you're really sweet when you give them this yummy candy treat!
Requires: Dogz II or Catz II
Never-Ending Thanksgiving Leftovers
Your Petz' dream come true? A Thanksgiving plate of never-ending leftovers — heaping with sliced turkey, stuffing, mashed potatoes and cranberry sauce. Download now and get these chops-licking Treatz in time for the holiday.
Requires: Dogz II or Catz II

The Big Red Toy Car
This car might move faster than your Dogz or Catz and perhaps even faster than that dreaded mouse! Fun for the whole group or for giving some lucky Catz or Dogz a lot of exercise.
Requires: Dogz II or Catz II

What's inside this Box?
An incredible Holiday Surprise! This is one holiday gift you and your Petz won't forget. Download this surprise toy today and you'll be just in time for the holidays.
Requires: Dogz II or Catz II
---
NEW DOGZ AND CATZ BREEDZ WAITING ADOPTION

You've picked one of the most lovable Dogz Breedz around to download. Dachshunds are generally very friendly Dogz and they can help other shy Petz come out of their shell. To keep your Dachshund happy, give them plenty of exercise and don't overdo it with a lot of Treatz.

Faithful Labradors
Labradors are known to be friendly, athletic, and loyal Dogz. Intelligent and responsive, most Labradors train easily with a little guidance and patience. Rewarding your Lab for a trick well done will inspire lasting loyalty and devotion.
Requires: Dogz II
Old English Sheepdogz
Fluffy, loyal, and loving are just some of the words used to describe Old English Sheepdogz. Their natural intelligence and gentle demeanor make them beloved and sought-after Petz.
Requires: Dogz II
Regal Russian Blues
Silver-gray fur dusted with whispers of purple make Russian Blues one of the most beautiful and distinctive Catz Breedz. Russian Blues are usually very loving and devoted Petz!

Adorable Chinchilla Persian Catz
Chinchilla Persians are one of the most delightful Catz Breedz around. Their melodic voices and sweet dispositions make them a constant source of enjoyment. Chinchilla Persians are well-known for their expressive eyes and fluffy fur.
Requires: Catz II
Precocious Poodles...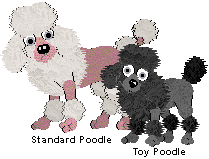 are now available for adoption. Poodles have a long and varied history and continue to be one of the most popular Dogz Breedz in the world. Poodles are extremely extroverted and energetic. You will find that Poodles come in a variety of shapes and sizes. Full-sized Poodles, miniature Toy Poodles, fancy-looking Poodles — even pink Poodles — can be downloaded here.
Special Note: Poodles are known to be very finicky — especially when it comes to food. Don't be surprised if standard Dogz chow isn't good enough for these fussy eaters. In your search for edible alternatives, you may have to get creative — and, remember, presentation is everything.
Requires: Dogz II

The Friendly Tabby
With their sharp eyes, distinctive coats and charming meows, these felines are among the most popular short-haired Catz around. Click on the Tabby to start downloading.
Requires: Catz II

The Lovable Dalmatian
Are you seeing spots? Dalmatian Breedz are loving and quirky Dogz — no two have the same spotty pattern or sparkly personality. Click on the Dalmatian to start downloading.
Requires: Dogz II